The business model of a face-to-face fair in a
Contact and relationship between exhibitors, buyers and visitors at a single click
What is the Virtual Fair?
The Virtual Fair is a platform developed for the implementation of Virtual Spaces, Business Centers and Virtual Fairs that can be applied to specific market sectors. It is an exclusive development so that exhibitors and visitors from a sector can contact other industries of interest.
Our platform: Virtual Fair, is customizable and adapts to any industry and economic sector, allowing contact and relationship between exhibitors, buyers and visitors.
Each click gives rise to an action within the Fair that is directing business contact, not only of interest, but also in vertical markets.
"We will lose human contact and interaction between people who have or attend a physical event" … Many claim and others have come to think
The answer is clear to everyone
Virtual events have not come to unseat the face-to-face, but to increase the reach and income of event organizers.
Customizable to the image of your event
We adapt the virtual fair, the graphic pieces, facades, stands and interaction rooms according to the vocation and brand of the event.
Contamos con un gestor de contenidos muy intuitivo. Cada expositor puede acceder a su cuenta y cambiar el contenido de su stand utilizando la clave de acceso desde cualquier lugar.
Customizable to the image of your event
The platform allows the registration of visitors with the social media profile. Personalized form for exhibitor registration. The hiring of stands can be done online.
Total and permanent support
Our team of specialists in 3D design, html5 and web development will support you throughout the process. You also have access to the user guide, as well as videos and webinars on the operation of the platform.
Wide interaction possibilities
The platform is designed so that visitors can come into contact with exhibitors, exchange cards and generate business appointments.
High level of interaction
Companies and visitors can schedule meetings with each other in an easy and direct way using the chat, videoconference and agenda reservation tool according to the availability of each one.
Measurement and analytics
Cada expositor tiene acceso a las estadística de interacción en su panel de control. La plataforma está conectada a Google Analytics. El organizador tiene información detallada sobre la actividad en la feria, pabellones y stands.
The registration form with personalized fields allows visitors to easily find the stand that best suits their requirements and demand.
Customizable and scalable
Choose from our stock or if you prefer, request new designs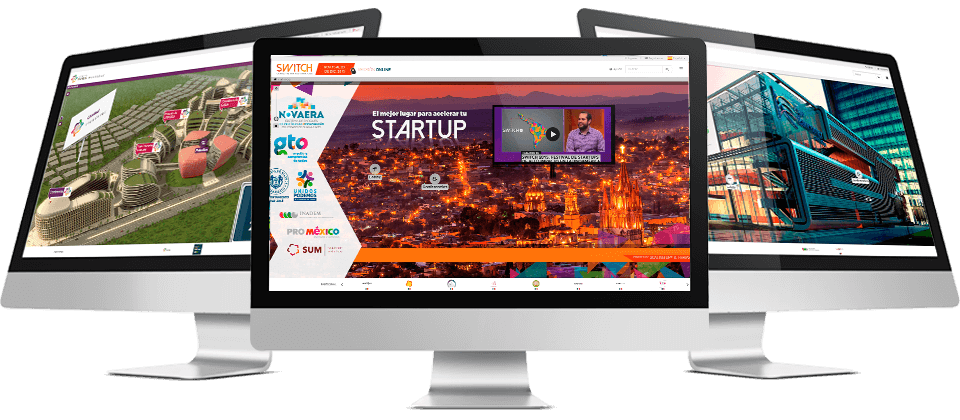 We customize the landing and entrance of your fair, with the advertising spaces you require and the stock rendering or new design
DATA AND INTERACTION
VISIT BEHAVIOR ANALYSIS

Real browsing data
Get reports and key statistics on user interactions within the platform.

Interactions with stands
Exhibitors and visitors can interact with each other, schedule meetings and chat in real time.

Real contacts and downloads
V-card exchange in networking rooms, downloading documents, catalogs.
Get in touch and we will soon be in the world of online business
Complete all the fields to be able to assign one of our advisors, so we can provide clear advice and keeping in mind each of your needs. We will be in touch soon….
Write to us and leave your information to know how we can help you or if you prefer, call us
Follow us on the Networks
Write to us and leave your information to know how we can help you or if you prefer, call us

+57 (2) 395 5298
+57 321 242 7229

  +52 (55) 4169 2790
+52  (777) 482 7137
mexico@feriasvirtuales.co 
Follow us on the Networks